Roofing by Right Turn
Right Turn Construction proudly offers many roofing solutions to meet just about any ones needs or preferences from Vancouver Washington north to the Centralia area and south to the Salem Oregon area and up and down the Oregon and Washington Coast.  All of our Architectural roofing shingles come automatically upgraded with Algae Block. Scotchgard ™ Algae Block by 3M ™ is a breakthrough in roofing technology and a godsend here in the Pacific Northwest especially.  By combining a small seed of copper inside of a large percentage of the granules in each shingle we are able to prevent most types of algae from forming and discoloring your roof.  The end result is a roof that starts beautiful and stays beautiful maintaining the color you chose for many years to come.  Most of our roofing products carry a limited lifetime warranty in addition to our 10 year workmanship warranty (one of the longest in the business). For a free estimate, call or click the estimate button.
Click the button below for a FREE no obligation estimate.
Free Estimate
Click the button below to use Pabco's ™ roof visualizer tool and see your home or a generic home with many styles and colors of trim, siding and roofing.
Roof Visualizer
Scotchgard Protector | PABCO Roofing

Pabco's Architectural roofing plant in Tacoma Wa. creates some of the richest most beautiful fiberglass composition  shingles available on the market today.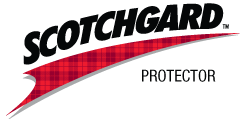 To use the Scotchgard ™ name and logo you must use a certain percentage of Scotchgard ™ granules. Pabco is one of the roofing manufacturers that qualify.
When you choose a Pabco "Preferred" contractor you are choosing a Hand-picked contractor who is certified to meet their regional licensing, bonding, and insurance requirements as well as a contractor that demonstrates consistent service and earns high marks from their customers. Preferred contractors use superior products from PABCO manufactured to the highest industry standards.